Gratefulness, the Key to Joy!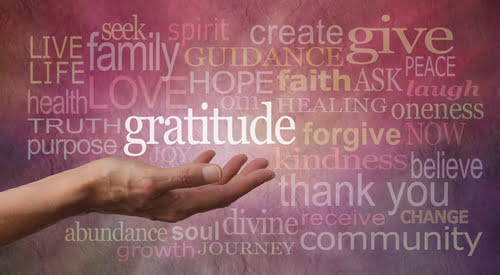 As I sit here pondering the upcoming holiday week of Thanksgiving, I'm reminded of my precious friend Judy.
Judy is the most grateful person I have ever met in my life and yet she has suffered more heartache and pain than most people I know.
Judy grew up poor in a small North Carolina town. She did not have indoor plumbing until she was a pre-teen. Her father suffered overwhelming guilt from an accident in which his 17-year-old sister-in-law was killed while riding in the back of a pick up truck. He was the driver. He could never forgive himself for the accident and allowed his guilt and sorrow to drive him to self-hatred and alcohol abuse. So, Judy grew up with an alcoholic father who would often cry when he was drunk and talk about that fatal Saturday afternoon.
Judy covered her own pain by choosing a life of rebellion, alcohol, and drugs. After living with her boyfriend Tim for several years, they finally decided to get married and curb their crazy, out of control lifestyle. Soon after, they started a family and before long had two beautiful, dark, curly-haired children, Dakota and Hannah. Judy was now living the American Dream…indoor plumbing, a husband with a job, and two kids to boot!
But life turned sour as the marriage began to disintegrate. Long work hours and out of town travel, with the stress to get the bills paid on time, began to drive Tim in the same way guilt had driven his wife's father. Anger and alcohol began to dominate his life, as he pushed his wife and children far away from him.
I remember clearly the day Judy attended my ladies Bible study with her fiery red hair pulled back in a ponytail, topped with a baseball cap. She cocked her head back, twisted her lips and said, "I'm glad you ladies have wonderful marriages but the truth is….I hate my husband and I wish he would find another woman and leave me!"
During that Bible study, I challenged Judy to take her eyes off her husband and to begin to look at herself. After getting a little agitated by my comments, she went home and did exactly what I had advised and as a result met her Savior in a life-changing, world-altering way!
Judy went from being a bitter angry woman who hated her husband to being a grateful, loving wife who loved her man in spite of his anger and alcohol cursed life.
As a result of Judy's constant love, one year later, Tim would come to meet Christ in the same life-changing way and they would begin to walk out their marriage vows centered in Christ's redeeming love.
But several years after their life changing experience with Christ, their world began to shake once again. Financial difficulties, the death of Judy's precious God-loving mother and then one year later, the death of their only son Dakota, would challenge both of them in ways I cannot comprehend.
Yet, through all the pain and difficulty, Judy has remained steadfast and faithful. She continues to be the most grateful person I know, sometimes with tears running down her cheeks because her heart yearns for one more word or hug from that precious 18 year old boy she called "son."
Six months after Dakota's death, with tears and a broken heart, Judy spoke at my women's conference in Indiana. The title of her session was "Gratefulness, the Key to Joy."
She shared her pain with her audience, and gave them hope through her testimony of CHOOSING gratefulness.
From Judy's testimony, I began my own gratefulness journal. Here are some of the key points God gave me concerning a grateful spirit that leads to joy.
Gratefulness is a choice!
Not choosing gratefulness IS choosing ungratefulness!
Gratefulness helps me keep my eyes off my problems and to cast them upon my Savior.
Gratefulness is choosing to see the negatives in my life from a different perspective.
Gratefulness keeps me from falling into self-pity, lifts my head up, and sets my face in the direction of hope.
Gratefulness keeps me from living life as a victim.
Gratefulness IS the key to joy!
"Lord, help me to choose to be grateful no matter the circumstances in my life; to keep my face turned toward You with a heart full of thanksgiving and a generous spirit; to not see others through earthly eyes but to see them through Your eyes of compassion and love; to live in a state of gratefulness that testifies of Your immeasurable grace and mercy towards mankind. Help me LIVE Thanksgiving…not just celebrate it one day a year."
May your holiday be blessed and your heart be filled with gratefulness and joy!
Happy Thanksgiving! Jenny
To watch Tim & Judy Pittman's testimony, Click Here